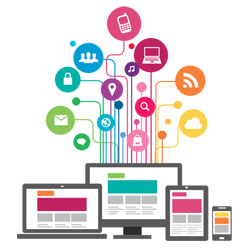 According to the Internet Advertising Bureau, people spend almost 3 hours per day online. The way people shop has changed, meaning offline marketing is much less effective than it used to be.
Marketing has always been about connecting with your customer at the right place and time. Today, that means that you need to meet them where they are already spending time: on the internet.
Businesses leverage digital channels such as Google search, social media, email, and their websites to connect with their current and prospective customers.
From your website itself to your online branding assets — digital advertising, email marketing, online brochures, and beyond — there's a huge spectrum of tactics and assets that fall under the umbrella of digital marketing. And the best digital marketers have a clear picture of how each asset or tactic supports their overarching goals.